Message from Bruno G. Odermatt-Maag - President of the STCC 2015-2022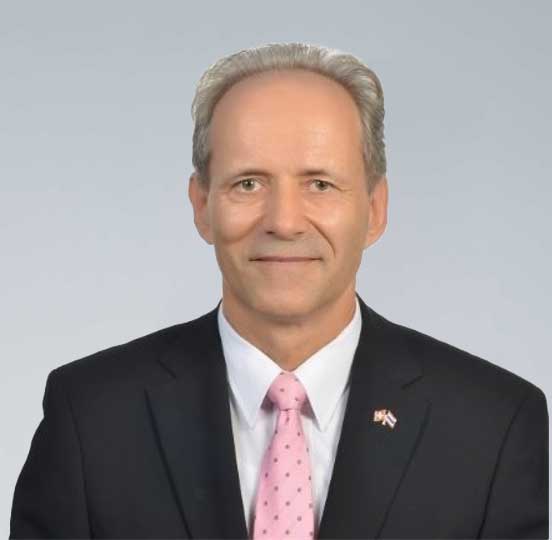 Dear Friends and Members of the STCC
An old Chinese proverb goes, "if we do not change our direction, we are likely to end up where we are headed", and there is definitely some wisdom in it. It is with some mixed emotions though, that after having written the President's message 7 ½ years to you, our respected reader, this will be my last one. 2 years ago, our leadership team embarked on a major Chamber transformation project, where we considerably changed the direction of our Chamber. We upgraded our Chamber from a part-time volunteer organization to  a professional one with our own employed Executive Director and full-time local staff, our own office on the premises of the Swiss Embassy, a very solid financial foundation grace to our corporate sponsors, increased revenue streams other than membership fees, more relevant network events and business activities for our members and, last but not least, excellent relations with the Swiss Embassy, Royal Thai Government, Board of Trade, and Foreign Joint Chambers of Commerce. We also updated our communication tools and are now highly active on several social media platforms and our monthly Newsletter also received a major face lifting. With the increased responsibilities and skills placed upon our leadership team, we were also able to attract younger professionals as STCC members and to our Board of Directors (BOD). Actually, we have now the most diverse leadership team in place in the history of our Chamber. It has been an incredible success story which would not have been feasible without your tremendous support.
As a result of our on-line Board elections, of which results you were informed on Monday, 21st  March, we are pleased to announce that we now have, for the first time ever, three new female Board members, Grace Nuchniyom (Syngenta), Sheena Flannery (DKSH), Jacqueline Kuratli (SCG-Dow), two younger start-up entrepreneurs, Andreas Wanner (Mr. Loo) and Robert Woodrich (Paper&Page), and a seasoned corporate executive Thomas Keller (Nestle). All existing Board Members were re-elected, with the exception of Eric Brand and Daniel Rainle. Both Eric Brand and Daniel Rainle made exceptional contributions to the Chamber over many years and we extend to them our heartfelt thanks for the many years of service and dedication to the Chamber. They will be truly missed in our leadership team.
For the first time after an election, as a result of the the By Laws revisions accepted at last year's AGM, the Board of Directors exercised its authority to elect the President and two Vice Presidents. Since I did not stand for re-election as President, I have the pleasure to announce that the Board unanimously elected Khun Naruepon Techawatanawana, CEO of Cosmo Group, as its new President. Khun Naruepon and his company have had a strong business affiliation for over 50 years with Switzerland, and he plays a major role in the STCC team taking part in the EFTA Free Trade negotiations with the Royal Thai Government. He is also the first Thai national to be elected as President of the STCC. He will be assisted by two Vice Presidents, Grace Nuchniyom and Sheena Flannery, who have strong corporate executive backgrounds in manufacturing and trade. We extend our best wishes to our new President and the two Vice Presidents and lots of success for their future tasks ahead. It is rewarding to see that we were able to substantially strengthen the depth, experience and knowledge of the STCC leadership team.
On this note, I would like to extend to you my gratitude for your many years of support. It was a privilege to be a part of such a dedicated group of people and to serve you in my capacity as President. We laid now the foundation to take the Chamber to a new level, and with our "One Switzerland" theme in unison with the Swiss Embassy, Swiss Society and other Swiss Partner organizations, we are now in a powerful position to represent the interests of Swiss investors and Swiss businesses in Thailand.
I also understand that some of our long-time loyal members are a bit uneasy with the pace of changes introduced over the last two years, especially as it relates to our business network and social events. However, what counts at the end is our desire and willingness to be committed to strengthen the Swiss presence in Thailand and work hand in hand with our respective partner organizations. In that sense, I and my colleagues of the Board are extremely proud to be part of Team Switzerland in Thailand and across the region.
On a lighter note, I concluded my last member interview with David Hartwig of IGNIV Bangkok, which was recently awarded the first Michelin Star in the 2022 edition of Michelin Guide Thailand. After hardly one year in operation in Thailand, it is quite an accomplishment and is a showcase of world-class Swiss dining experience, leadership and innovation. You will truly enjoy the conversation.
With this in mind, I wish you and your business the very best success in 2022, despite the prevailing uncertainties we are currently dealing with, and encourage you to continue to support our Chamber and its leadership team by gracing us through your presence and active participation at our events.
With my ever best wishes
Bruno G. Odermatt-Maag
Outgoing President STCC
bruno@a-sure.net
Tel:  +66 81 844 6881