Message from the Executive Director August 2021
Inauguration of the STCC Office on the Embassy Compound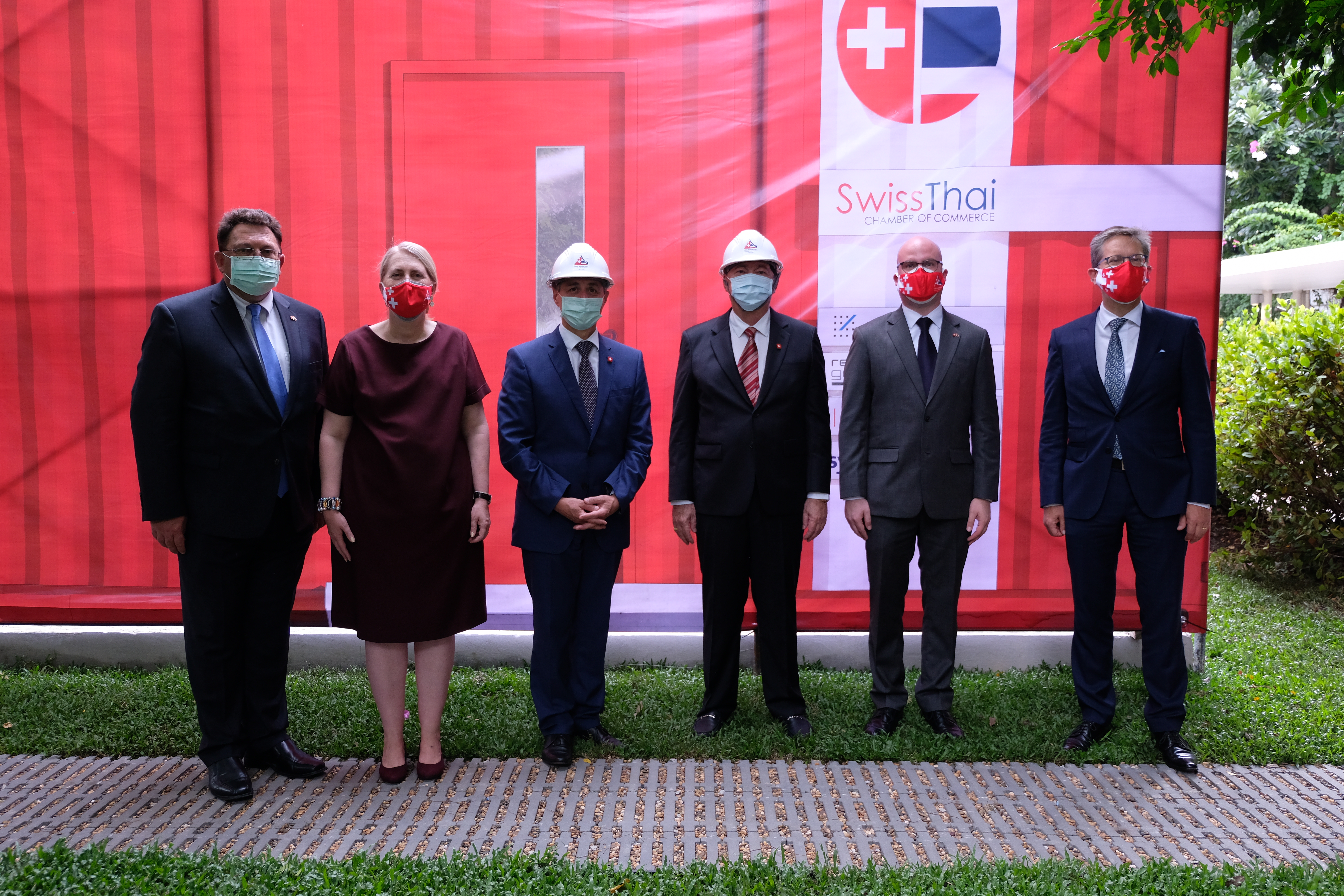 During his state visit to Thailand, H.E. Federal Councillor Ignazio Cassis, together with Dr Niti Meyer, Director of the STCC, inaugurated the STCC's new office on the premises of the Swiss Embassy. A Lignum Vitae tree was planted next to the office pavilion, symbolising the already strong ties between the Embassy and the STCC and the future growth potential of this long-standing relationship. This exclusive office space will allow us to directly represent our members on the compound of the Embassy on all economic related matters.
Our special thanks go to the office sponsors who made this possible:
We are very much looking forward to moving into the office at the end of August, when the work inside the office will be completed. Once the situation in Thailand has improved, we will invite our members to give you a chance to experience this innovative and creative office solution.
Signing of a MoU between the STCC and the ETH Zürich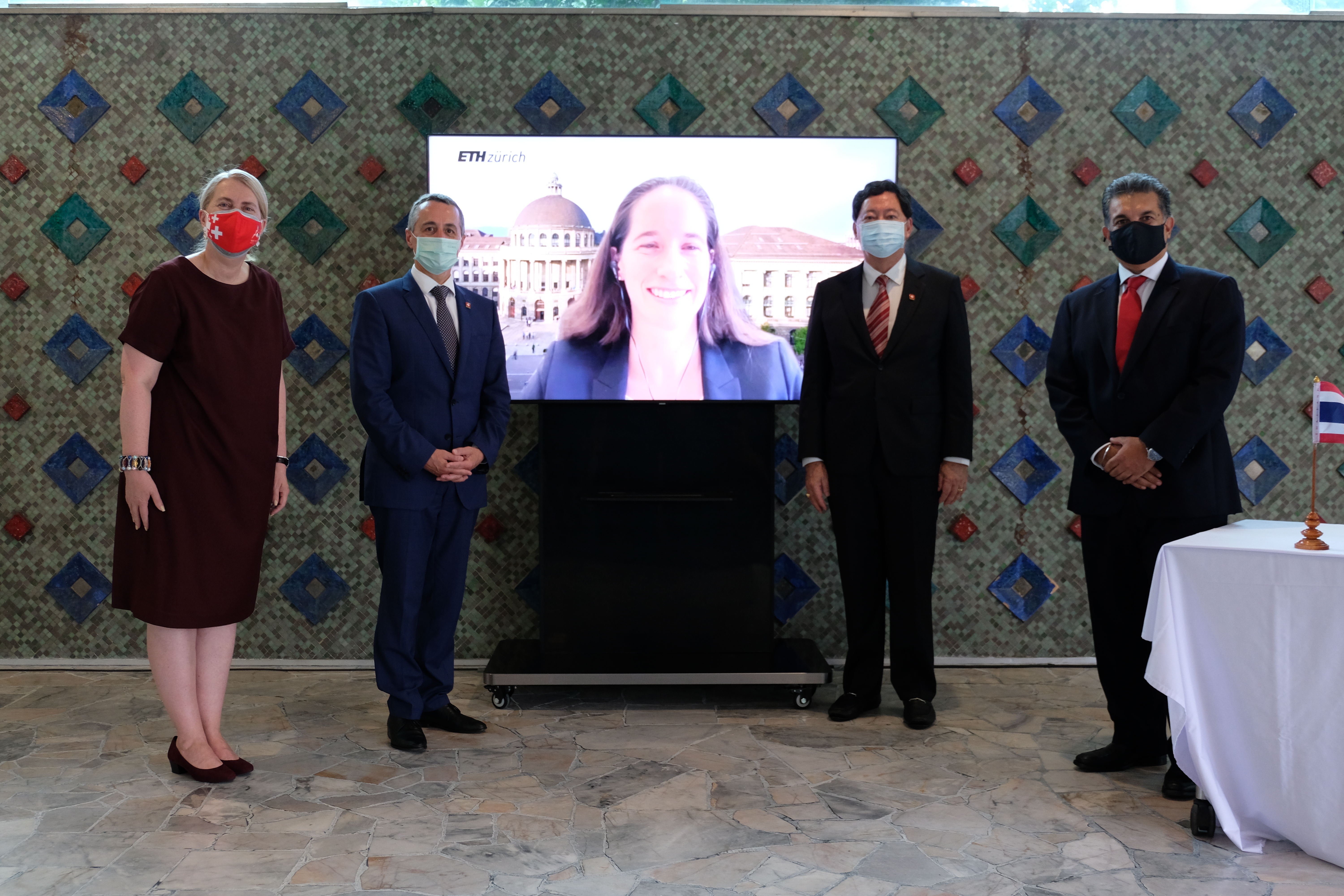 In addition to the milestone described above, I am pleased to announce that after many months of discussion and planning, the STCC was able to sign a Memorandum of Understanding for an internship programme with ETH Zürich in its role as Leading House Asia. The internship programme is aimed at students at Swiss universities, universities of applied sciences and universities of teacher education and offers internships in STCC member companies in Thailand.
The signing ceremony was witnessed by H.E. Federal Councillor Ignazio Cassis, H.E. Ambassador Helene Budliger Artieda and Mr. Bijay Singh, Global Head of Business Unit Healthcare at DKSH. DKSH, one of our founding members, will be the first STCC member to host interns from Switzerland under this newly launched programme, and we hope to welcome the first participants later this year.
New Events & Marketing Trainee at the STCC
Moving on to updates on our chamber's operation. On 1 August, we have added a new member to the STCC team. Mr. Tanapat Prompat, is our new Event & Marketing Trainee for the next 6 months. You will find his personal letter of introduction on the following pages of the newsletter.
Member for Member Benefit Programme
Even though we were not able to hold physical events and do networking in the last few months our chamber decided to bring additional benefits to our members. Therefore, it is my great pleasure to inform you that we are currently working on a Member for Member Benefit Programme. Such a programme is a first for our Chamber and we hope that many of you will share your offers and products at special rates with your fellow Chamber members. This will increase your brand awareness and provide you with a direct sales channel to the Swiss-Thai business community and directly promoting your business. At the current stage this product and service placement is free of charge and is foreseen to be published at the end of August/Early September via our various communication channels.
If you or your company is interested to make use of this opportunity, please send an e-mail to execdirector@swissthai.com  with the following information:
1.         Company Name
2.         Exclusive Offer
3.         Validity Period (if applicable)
4.         Website
5.         Your Logo (min. 200x200px)
6.         Contact Person